3 surprises of 2007~2008
Recently I was surprised and excited at Marcel Hanoun's films in his new website(1) because in Japan we have never seen his works on screen for 25years(I remember one of his films was shown maybe just once in "30 years of french experimental cinema" in L'Institut franco-japonais de Tokyo in 1980's...and I found I missed his new work which had been shown in Pocket Films(mobile films) Festival in Tokyo in last December!).From his legendary "L'Authentique Proces de Carl-Emmanuel Jung"(split of strictly framed images and bressonien monotone dialogue recorded separately)and "Le Verite sur l'imaginaire passion d'un inconnu"(double casting of Anne Wiazemsky-Michel Morat as Jesus Christ,the story was narrated from a point of view of TV commentator who is played by Michael Lonsdale) to recent "Un arbre fou d'oiseaux"(a sensual portrait of actress Lucienne Deschamps,composed of her image,voice,motion and sound of backdrop) and "Jeanne,Aujourd'hui"(multiple reflection about "playing Jeanne d'arc today"), Hanoun's films always lead us to reflection upon problems of who and how an image as a medium narrates to us(from the point of view,I think the most important and beautiful film of Philippe Garrel is still "Elle a passe tant d'heures sous les sunlights...") and they are far ahead of all new french films (aside from Nouvelle Vague masters) which were distributed to Japan in 2007. Of course I'm not content with seeing them on such a small display so I hope we'll see them on big screen together with Hanoun's other films.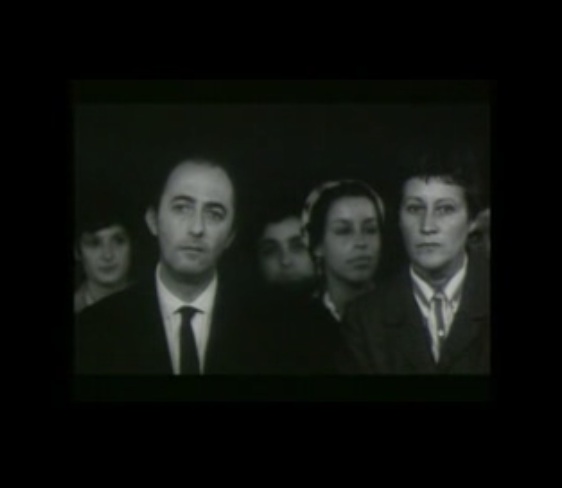 And another surprise from Georgia,Alexandre Rekhviashvili's new film(*) "The Last"(2).We could projected this wonderful 70 minutes documentary in Tokyo and Kyoto,thanks to the producer Inga Karaia who is also the director of museum Department at the Ministry of Culture of Georgia. This film let us see the hard life and death of people in two small isolated Georgian villages of Middle Ages left in mountainous Racha. The film has almost no dialogue and has great "language of gesture of hands" like Bresson's film. Rekhviashvili said in an interview that he admires Dreyer and Mizoguchi(3),but this film is a documentary and people's gestures, animals,nature and sound(of background and folklore music like western movie's) are always moving and must be uncontrollable, so such keeping of strict distance from objects and rapid montage that musically compose elder people's emotion,happiness and sorrow,are truly marvelous,risky(sometimes he left dirt of lens and a cloth as a cover of the DV camera probably on purpose) and poetic. I believe this film is superior to two masters' films shown in Japan in 2007, Iosseliani's "Jardins en Automne" and Alexandre Sokurov's "Elegy of Life: Rostropovich, Vishnevskaya".

(*)DVD of Rekhviashvili's "XIX saukunis qartuli qronika/The 19th Century Georgian Chronicle "(1979) and "Step/Safekhuri"(1986) are on sale,
and Coming Closer/Miakhloeba (1989)can be seen here.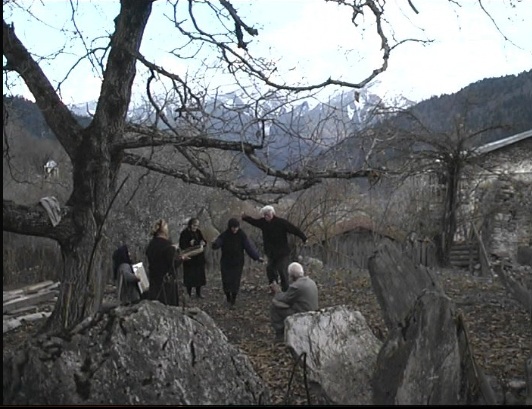 And the surprise from japanese cinema,Teiichi Hori again.After three astonishing crime&melodrama films;"Bentouya no Hitozuma: Mou Ippin, Watashi wa Ikaga desuka?","Kusamura" and "Shikijo Danchizuma Double Shisshin"(japanese DVD title "Wa.Re.Me") which were made as a pink-movie format,his new DV film "Moso Shojo Otaku Kei"(2007)(4) is a superb boys-and-girls comedy. In three precedent films Hori focused on "couple" as just an intersection of a man and a woman,who has his/her own secret story of life.In conclusion hopelessly they're lonely even during they're making love. And they are too tired from work and life, closer to the protagonists of Tatsumi Kumashiro's late masterpieces like "Aa ! Onna-tachi Waika"(Viva the women! the dirty songs) and "Mika Madoka;Yubi wo nurasu onna"(A Woman who moistens her fingers) than Bertolucci's "Last Tango in Paris"(We remember Luc Moullet said Kumashiro is more important than Kurosawa(5)). Hori's mise-en-scene is really subtle and splendid, for example in a top scene of "Shikijo Danchizuma...",after using a close up of the heroine(Hotaru Hazuki) sitting on a park bench and only a few reverse shots that all protagonists who are related to her appear in each shot, when he follows a long take of cold-hearted scene of her and her drunken husband who will become a contract killer.
In "Moso Shojo Otaku Kei", Hori seems to change his attitude to his protagonists more cynically.A high school girl Rumi(Asami Kai) is absorbed in the world of "boy's love comic",and she is lost in wild fancies that two boys of her classmates,Abe(Masaki Nakayama) who secretly loves Rumi and Chiba(Toru Baba) are the characters of the comic and love each other.And Yoko(Aya Kiguchi), who is also Rumi's classmate,takes advantage of Rumi's illusion and tries to approach Chiba. All adults except a teacher of their class appearing as off-screen voice, superficially influenced by Rivette("La Bande des quatre", particularly a truck back shot which capture from two girls who sit and study diagonally opposite sb.) and Rohmer("Quatre Aventures De Reinette Et Mirabelle"),but "Moso Shojo" has its own original direction and a critical vision to japanese people which was made a fool of too much images.In the beautiful last scene, finally Rumi can accept Abe,but through "realization" of her illusion in a pool. we understand it's inescapable for all of us to live in such tragicomic world of images. Aside from Kunitoshi Manda's new film "Seppun"(Kiss) which narrates a story of a woman who falls in love with a murderer at first sight(Ayako Wakao comments this film made her remember the direction of Yasuzo Masumura),this is the best japanese film of 2007. And I say again undoubtedly Hori is the most important japanese director in new generation.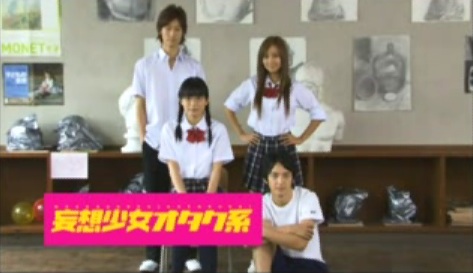 (1)http://www.atelier-de-marcel-hanoun.com/

(2)http://www.filmcenter.ge/eng/film1_1172150963.phpĀ@Extract from the film can be seen;

http://www.memocast.com/playlist.ashx?type=ShowMedia&id=f3ff4c9875e4441592aea03cdc3f2308

(3)http://old.kinoart.ru/2000/1/10.html (russian only)

(4)http://www.mousou-shoujo.jp/Ā@(japanese only)

(5)"Bianco & Nero". nn. 3-4, luglio-dicembre 1996

(2008.3.25)

I went to the preview of Teiichi Hori's new film "Ren"(2008). A masterpiece.
Akihito(Toru Baba) is a high school student. He meets Ren(Rei Okamoto).Akihito had never met her,but strangely all other students know her as a classmate.Ren lives with her grandmother(Junko Miyashita,Muse of Kumashiro's films). One day Ren says Akihito that she came from the future and she is "a prisoner of time forever". Akihito sees a car crush because of disturbing her passing and a little girl's death. Then Shu(Masaki Nakayama),a transfer student,came to their school. He says Akihito that he also came from the future.Suddenly a classmate girl disappears.Ren and Akihito find her dead body. Shu says Ren that he had sent her here and the only way out of this is that she kills him...

"Ren" is a small sci-fi film, adaptations from Takafumi Mizuguchi's novel. The story may be like "Terminator 2", but the film itself is closer to Rivette's "Duelle". This is also a documentary of the deserted suburbs of Tokyo, Ryugasaki. But when the fantasy invades daily life of students,suddenly everything is transformed into mysterious and tense gestures. Hori knows perfectly well the importance of shooting routine from the same position(He suggested it imitating some scenes of Ozu's "An Autumn Afternoon" completely,at the reception party). The 10 minutes shot=sequence of enigmatic death ceremony at the riverside(the bonfire makes me remember Rudolf Thome's "Der Philosoph") is extremely beautiful.Hori's mise-en-scene is superb and all actors embody pitiful and fragile japanese teens.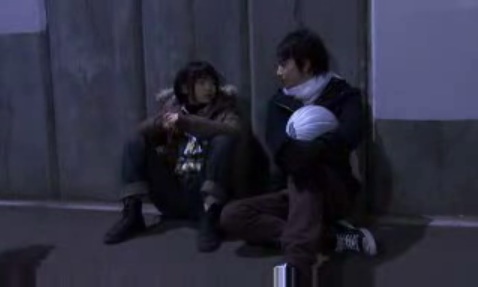 DVD of "Ren"is on sale.
(2008.5.5)


©Akasaka Daisuke